My Favourite TV Houses
(source of the feature image)
I was listening the other day to the A Beautiful Mess podcast and in the episode 60 Emma and Elsie were talking about their favourite movie houses. It's such a fun episode and I recommend you to listen to it (here). It made me think about my own list of THE BEST houses I love to watch in movies. And I had to extend it to the series, because there are many more great buildings.
It's a good distraction from being at the same home all the time during covid lockdown. It's fun to dream a little bit and maybe get inspired for some home projects.I chose houses which can be really inspiring and "doable", but also add some fun ones, because I like their vibe.
Nancy Meyers Movies
Yes, first on the list is actually a group of movies, all directed by Nancy Meyers. Because let's been honest, no matter of the story quality, the houses in her movies are perfect. I selected the best of the best only.
The Holiday – Rosehill Cottage
Ok, so this is the house I can 100% imagine I could live in. It's possible the cosiest little home in perfect English countryside. The fireplaces, metal bathtub, stone walls, wooden beams, THE BOOKCASE – let me pack my stuff. This is what my dream house looks like. For me, it doesn't matter it's rather small, I've never been a fan of huge mansions. It has the most hygge and cosy atmosphere. The outdoors with fields around (and woods I imagine) are made for long walks in cold air and then curling beside fire with hot cacao…
Something's Gonna Give – Beach House
And speaking of big houses 😀 If I need to chose, get me one looking like this. Why? The office! I love the huge windows facing to the sea, all white, number of little nooks to hide yourself with a book. The exterior of the house is nothing special to me and it doesn't look like it hides such a bright space inside.
It's Complicated – Meryl Streep's House
If all-white is not your thing, then this house has a lot of similarities as the one from Something's Gonna Give, but with more bold accents. The best part? Kitchen! The black dinning chairs are the right pop of colour in the spacious kitchen and dinning room. The whole house has a California soul with its low profile, red roof tiles, huge trees and vegetable garden. Yes, the garden is something I would enjoy very much 🙂
The Intern – Jules' Home
I'm not sure if the set of this movie is in New York, but in my imagination this is the kind of house you would buy there if you're upper class. The interior and all the furniture are mix of modern, stylish, vintage and classic pieces. It all match together in nice and pleasant way. I would never be able to do that, let me tell you. Here is also the main focus on the kitchen. All the cabinets are grey, which is something we are thinking about in our flat. But the open shelfs would never work for us. Don't get me wrong, they are beautiful to look at, but I assume we are too messy to keep an order in them. Also, we would need some major update of our old, mismatching dishes.
Me Before You – Switzerland Cottage
This may be a little bit morbid, but I love the cottage where Sam Clafflin's character went to end his life. It's bright, all white, I mean ALL – with walls from light wood and white furniture. I like this farmhouse style, especially when it's so clean. There are actually many homes in this movie. I'm not into the modern shed where he lives during the story. It's too cold and empty for me. I do like the big house where his parents live. It's the kind of property you own when there is `Lord and Lady` before your name 🙂
Hobbit – Bilbo's Hole House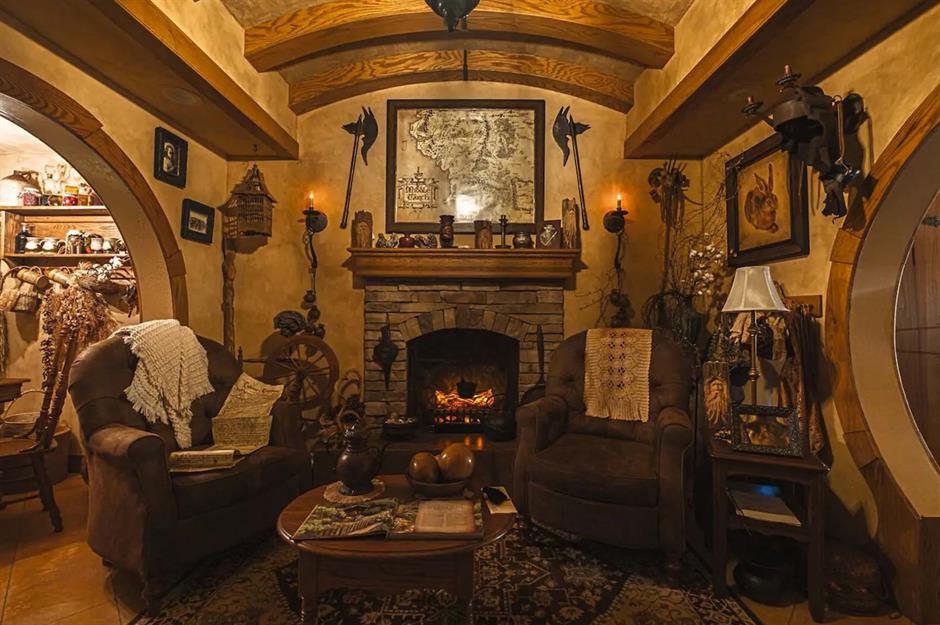 Ok, this is the fun house in the list. I hope I don't need to explain why this made it here 🙂 Who wouldn't want to live in such idilic place, on top of the hill with a view to the whole Hobbiton?
Gilmore Girls – House of Lorelai and Rory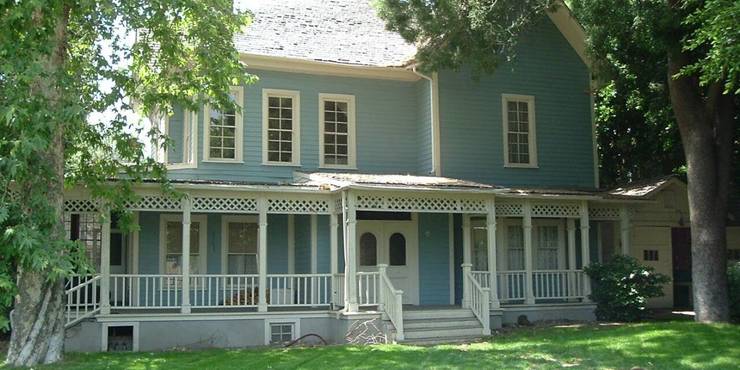 This is a must on the list. Whole Starshollow is the perfect place to live. Mainly because it seems like the autumn there is much longer than in other places 😀 The house where Lorelai and Rory live is nice, but is much better after Luke's renovation. Two-sinks bathroom? The huge master bedroom? Nice and cosy kitchen? Move me in!
Sex Education – Otis' House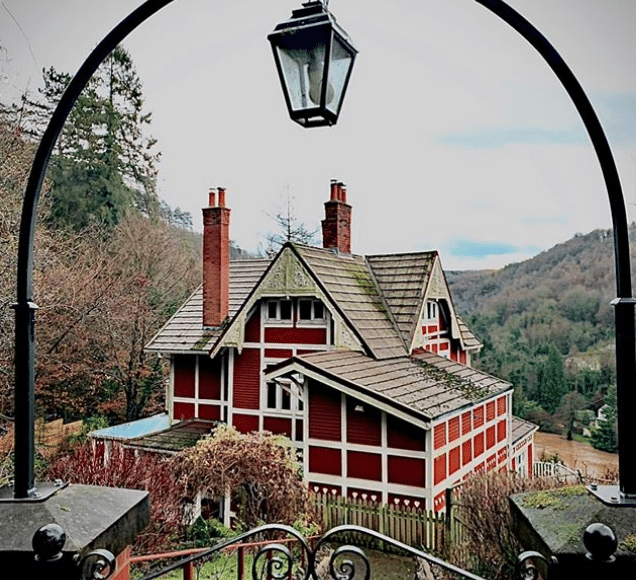 When we started to watch Sex Education, we were slightly confused where it takes place. Is it England, US or some generic fantasy place? I'm not sure if it's mentioned there, but we sticked with UK. Even thought the house where Otis lives with his mother is nothing like English houses. It reminds me the old colonial mansions build during early days of building in USA. The best part of the house is the view on the river/lake (I'm not sure), especially from the wooden porch. I picture me and my husband sitting there, having breakfast or grill dinner, chatting and watching the sunset.

Downton Abbey
I guess you can tell now that I have soft spot for England and countryside. And Downton Abbey is like the crown jewel of this. Well, house of the Dowager Duchess would be also enough for me 😀 I love this show, it's so pleasing to watch.

I hope you enjoy this list, I certainly did when I was putting it together. Let me know in the comments what are your dreamy movie houses, I would like to discover some new candidates.